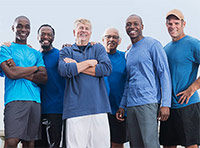 Men, your health matters to you and to your family. The steps to lifelong good health are simple, starting with choosing a doctor for regular checkups.
Men visit a doctor half as often as women do.
Those regular checkups are important. They let you understand your current health, stay on track for feeling your best, and detect problems early — when they can be corrected more quickly and easily.
Men live five years less on average than women.
It's simple: taking care of yourself means living longer, more years with your family, and more years of feeling your best.
The basic steps of healthy living are simple.
Quit smoking and limit alcohol: Smoking puts you on a course for early death from heart disease, and alcohol promotes some of the top cancers that affect men. Get free Help quitting smoking
Eat sensibly: Go beyond fast food. Eat a wide range of vegetables and other foods in moderate portions. How to start smart eating
Be active every day: Half an hour of brisk exercise a day, even in 10-minute stretches, makes a difference in wellness, disease risk and weight control. Walking is a great way to start, but many other activities have benefits. More about getting active
Get regular checkups: Annual wellness checks with your doctor help you understand changes in your health, detect problems early, and take the right steps to stay your healthiest. Your doctor is your best partner to live a healthy life.
The Deadliest 5: Top causes of death in men
All of these conditions are preventable when you take the right steps for your health.
Heart disease
Cancer
Lung Diseases
Stroke
Diabetes
Know Your Numbers
These basic health measurements are the most important to stay in touch with. You can get them checked by healthcare providers, at a pharmacy, or even at home.
Blood pressure: Heart disease kills more Mississippians than any other cause. Know your blood pressure and make sure it stays in a healthy range. High blood pressure can quickly lead to damage of the heart, liver and major organs of the body. High blood pressure is easy to avoid with the right choices.
Blood sugar (glucose): Like high blood pressure, blood sugar that's not controlled can bring on serious health problems, including diabetes. Diabetes is one of Mississippi's top chronic diseases, and it shortens the life of too many adults. Fortunately, there are simple ways to keep healthy levels if you act in time, so regular checks are vital.
Blood cholesterol: High levels of cholesterol can mean a greater risk of heart attack and stroke. Your doctor can help you know your cholesterol numbers, take simple steps to control them, and keep on a healthy track.
For Men Only: Understanding Prostate Cancer
Prostate cancer only affects men. It's the most common cancer in American men after skin cancer. More than half of all men will develop prostate cancer in their lifetime, and the chances are higher in African American men.
Risk factors: Some men are at higher risk of prostate cancer:
African American men have twice the death rate from prostate cancer compared to other groups.
Having more than one relative who has had prostate cancer increases your risk.
Age also increases your risk.
Symptoms: Talk to your doctor if you regularly experience any of these symptoms:
Difficulty starting urination
Weak or interrupted flow of urine
Frequent urination, especially at night
Difficulty emptying the bladder completely
Pain or burning during urination
Blood in the urine or semen
Pain in the back, hips or pelvis that doesn't go away
Getting screened: Screening is a simple check by your doctor for signs of possible prostate cancer.
55-69 years old: Talk to your doctor about being screened for prostate cancer, the benefits for you, and how often you should be screened.
70 years and older: If you have symptoms of prostate cancer, check with your doctor about screening.
Before 55: If you have one or more risk factors, such as a family history of prostate cancer, talk to your doctor about your risk and about periodic screening by the time you turn 45. You may be able to take important protective steps early, and lower your risk.
Learn more
Health Resources for Men
Need to Know
Contact
For more information about programs for men's health, our Maternal and Child Health programs, or the MCH Block Grant, call
1-800-721-7222.