Research shows that there is no better food than breast milk for a baby's first year of life.
Breastfeeding can improve the health of mother and baby. Babies receive nutrients that only you can provide, and mothers can actually lower their risk of developing diseases like cancer and heart disease.
Mothers and babies shouldn't miss out on these benefits. We encourage all mothers to choose breastfeeding for good nutrition from the beginning.
Better for Children
Breastfed infants are healthier. Babies who are exclusively breastfed have fewer childhood ear and respiratory infections, and a lower risk of Sudden Infant Death Syndrome (SIDS) .
Breastfed infants grow up healthier. They are less likely to have weight problems in childhood, and are less likely to suffer from asthma and allergies. They even have a lower risk of diabetes and leukemia as they get older.
Better for Mothers
Breastfeeding mothers are healthier. Mothers who breastfeed lower their risk of type 2 diabetes, breast cancer and other cancers, and are less likely to develop heart disease — and these benefits are lifelong, not just during the time you breastfeed.
Breastfeeding saves money. There's no formula to buy, and because your baby will be healthier, fewer doctor visits to pay for.
Breastfeed Anywhere
Mississippi state law now upholds your right to breastfeed at work or in any public place.
What Breastfeeding Can Do for You
Enrolled in WIC? Get free breastfeeding support right on your phone.
Eligible WIC clients can now get breastfeeding support 24 hours a day for FREE with the Pacify app.
Pacify connects you with live lactation consultants who are available 24/7 via video to offer breastfeeding support and answer other feeding related questions.
Simple and easy to use right from home, there are no appointments required and you can call as often as you need to.
Sign up today! Get your membership code, download the app, and sign up at pacify.com/ms-wic. Or talk to your local WIC staff about how to get started.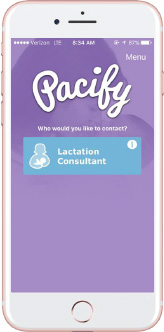 Information and Resources
Resources
Contact the Breastfeeding Program
WIC Breastfeeding Program Coordinator
Mississippi State Department of Health
P.O. Box 1700
Jackson, MS 39215-1700
Phone: 601-991-6000
Toll-free: 1-800-545-6747
For more information about Maternal and Child Health Programs and the MCH Block Grant, call 1-800-721-7222.