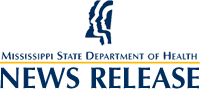 JACKSON, Miss. — The Mississippi State Department of Health (MSDH) will be hosting drive-through COVID-19 testing sites for Mississippi teachers and staff at various county health departments over the next few weeks.
Any K-12 teacher, staff or administrator can be tested for free at the county health department locations below. Testing hours are noon to 7 p.m., and no appointment is necessary.
Visit the MSDH website at www.HealthyMS.com/locations for addresses of the county health departments.
SCHOOL NURSES: Now available at scheduled county health department locations are N-95 masks for school nurses. Be sure to bring school identification or a letter that indicates you are a school nurse. N-95 masks contain medical-grade respirators, offering the wearer greater protection when caring for ill children.
To receive your mask, visit a testing location for school teachers, staff and administrators from noon to 7 p.m. on a day that testing is scheduled there. Masks will only be distributed on days scheduled for teacher testing. See the schedule of testing locations and dates below.
School nurses can also obtain N95 masks at the West Street Farmers Market testing location in Jackson from 8:30 a.m. to 3:30 p.m. Monday through Saturday.
Additionally, daily testing is offered for teachers, staff, and school administrators at the West Street Farmer's Market in Jackson or any pop-up testing site sponsored by MSDH, the University of Mississippi Medical Center, and the Mississippi National Guard. Appointments are required for the pop-up sites and the Famer's Market, and testing hours are 8:30 a.m. to 3 p.m.
To make an appointment, visit https://umc.edu/Coronavirus/COVID-19-Testing
Follow MSDH by e-mail and social media at HealthyMS.com/connect.
---
Press Contact: MSDH Office of Communications, (601) 576-7667
Note to media: After hours or during emergencies, call 1-866-HLTHY4U (1-866-458-4948)