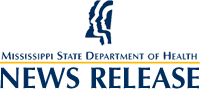 JACKSON, Miss. – Today the Mississippi State Department of Health (MSDH) reports one new death from coronavirus (COVID-19) in Mississippi, bringing the state total to six.
The case was a Rankin County male 80-85 with underlying conditions. He died while hospitalized.
Deaths have been previously reported in Hancock, Holmes, Tunica, Webster and Wilkinson counties.
Note: Further COVID-19 deaths in Mississippi will be reported daily alongside the case counts on MSDH's COVID-19 web pages.
Follow MSDH by e-mail and social media at HealthyMS.com/connect.
---
Press Contact: MSDH Office of Communications, (601) 576-7667
Note to media: After hours or during emergencies, call 1-866-HLTHY4U (1-866-458-4948)