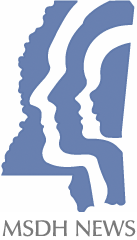 JACKSON, Miss. – The Mississippi State Department of Health (MSDH) held a ribbon-cutting today for the Dr. F.E. "Ed" Thompson, Jr. State Public Health Laboratory on its central office campus in Jackson. Construction began on the $36 million laboratory in 2010. The 80,000 square foot facility provides state-of-the-art lab space that now allows the agency to more efficiently monitor and respond to public health threats.
"This new facility gives Mississippi the capacity to prepare and respond to all types of public health emergencies and to test for numerous diseases," said MSDH State Health Officer Dr. Mary Currier. "Our previous lab was built in 1959 and was no longer adequate to support the technology used today to protect our citizens from disease outbreaks, harmful environmental contaminants, and emerging health threats."
The MSDH laboratory has assisted health authorities in the prevention and control of public health threats in Mississippi since 1917. As the state's only public health laboratory, the facility serves the citizens of Mississippi by performing more than 175 different tests on the more than 600,000 samples received each year.
The facility routinely performs a wide range of tests that detect biological, toxicological, chemical and radiological threats to the health of the population including testing for Zika Virus in recent travelers, rabies in animals, Salmonella or E.coli in food, and contaminants in drinking water.
The laboratory also has capabilities to respond rapidly to public health emergencies such as novel strains of flu, suspicious substances containing anthrax or ricin, and unusual events like widespread flooding or hurricanes.
"This sophisticated, 21st century lab was a dream for Dr. Thompson," said State Board of Health Chairman Dr. Luke Lampton. "He was a true public health champion in every sense and was incredibly instrumental in getting this project off the ground. I am certain Dr. Thompson would be especially pleased with the final result."
Unlike the former facility, the Thompson lab meets the national standards established for laboratories that work with highly infectious substances. The laboratory is equipped with more than 3,000 square feet of Biosafety Level 3 containment areas, which allow the laboratory staff to work safely with highly infectious agents such as multi-drug resistant tuberculosis or newly emerging pathogens such as Ebola.
The MSDH laboratory's 85-member staff moved into the facility in January 2016.
For more information on services the public health laboratory provides, visit the MSDH website at HealthyMS.com/phl
---
Press Contact: MSDH Office of Communications, (601) 576-7667
Note to media: After hours or during emergencies, call 1-866-HLTHY4U (1-866-458-4948)