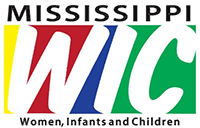 WIC is a special supplemental food program for pregnant, breastfeeding, and post-partum women, infants, and children under five years of age. WIC helps you and your baby get healthy foods and healthy advice in the first years of life.
The cash value benefit (CVB) that WIC participants use to purchase fruits and vegetables will change beginning October 1, 2023.
New amounts:
$10 for child participants
$12 for pregnant and postpartum participants
$12 for fully and partially breastfeeding participants
$18 for fully breastfeeding with multiples
The CVB amounts are based on the current WIC regulations for Federal Fiscal Year 2024 for inflation-adjusted CVB amounts. Please note these amounts may be subject to change.
Forms
For Medical Professionals
Helpful Programs and Information
Resources
Contact
Mississippi WIC Program
805 S. Wheatley St
Suite 400
Ridgeland, MS 39157
Phone: (601) 991-6000 or call toll-free (800) 545-6747 outside of Jackson
For questions regarding Verification of Certification (VOC) please call either of the phone numbers listed above.
For more information about Maternal and Child Health Programs and the MCH Block Grant, call 1-800-721-7222.