The goal of the ST Elevation Myocardial Infarction (STEMI) System of Care is to reduce mortality and morbidity resulting from cardiac disease and injury.
Mississippi leads the nation in mortality and morbidity from cardiovascular disease (CVD):
CVD is the number one killer of Mississippians
CVD is the number one reason for hospital admissions
STEMI is a time-dependent condition requiring rapid recognition, diagnosis, and treatment
The Mississippi Stroke System of Care is a collaborative effort between the Mississippi State Department of Health, the Mississippi Healthcare Alliance, the American Heart Association Mission: Lifeline, and the Mississippi Hospital Association.
Clinical Requirements
Primary Cardiac Intervention (PCI) Centers (Level 1 Heart Attack Center)
Interventional/Non-Interventional Cardiology
Cardiac Catheterization Laboratory
Emergency Department
Coronary Care Unit
Cardiovascular Surgery
Non-Primary Cardiac Intervention Centers
STEMI Treatment Protocols
Diagnostic EKG in 10 minutes or less
Cardiac Catheterization Laboratory activation
Single activation telephone call to alert the STEMI team
STEMI Regions
The Mississippi STEMI System of Care comprises three regions: North, Central, and South. As of June 2017, there are 20 affiliated Primary Cardiac Intervention Centers.
Northern Region
Baptist Memorial Hospital – De Soto (Southaven)
Baptist Memorial Hospital – Golden Triangle (Corinth)
Baptist Memorial Hospital – North Mississippi (Oxford)
Magnolia Regional Health Center (Corinth)
Methodist Olive Branch Hospital
North Mississippi Medical Center (Tupelo)
Central Region
Anderson Medical Center (Meridian)
Delta Regional Medical Center (Greenville)
Merit Health Central (Jackson)
Mississippi Baptist Medical Center (Jackson)
Merit Health River Region (Vicksburg)
Rush Health Systems (Meridian)
St. Dominic-Jackson Memorial Hospital (Jackson)
The University of Mississippi Medical Center (Jackson)
Coastal Region
Forrest General Hospital (Hattiesburg)
Memorial Hospital at Gulfport (Gulfport)
Singing River Health System (Ocean Springs/Singing River)
Southwest Mississippi Regional Medical Center (McComb)
Merit Health Wesley (Hattiesburg)
STEMI System Hospitals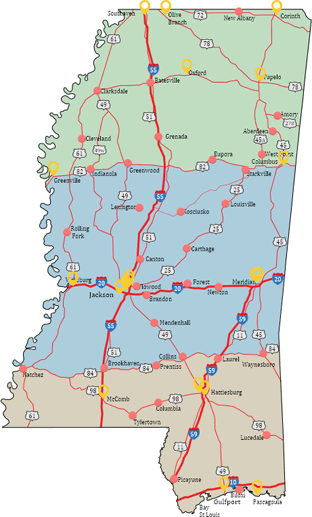 Advisory Committee and Performance Improvement
The purpose of the STEMI System Advisory Committee (SSAC) is to provide guidance and technical advice in the implementation and execution of the state STEMI Plan. Meetings are held quarterly or as called by the chair.
Performance Improvement is a vital part of the STEMI System of Care. It is used to document continuing proper function of the system and evaluation of that function to implement improvements in system operation and STEMI patient management. In a STEMI system, patients have virtually no time to make specific choices regarding acute and critical medical care.
PCI Centers use the ACTION Registry as the database for record collection. The ACTION Registry is a product of the ACC/AHA guidelines.