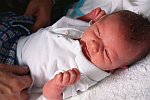 Premature births are a major public health challenge in Mississippi. Prematurity puts newborns at risk for health and developmental problems as they grow, and is a leading cause of early death.
That's why MSDH is working to keep pregnant women healthy throughout a full-term pregnancy to give all children the best start in life.
Premature Births and Public Health
The Problem
About 17 percent of babies in Mississippi are born too early (before 39 weeks of pregnancy). Compared to a national average of about 12%, it puts the state among the top five in the rate of premature births year after year. The problem is even greater for minorities, particularly African-American women, where rates can be greater than 20% — one child in five. The final weeks of pregnancy are important ones for the development of vital organs such as the brain, lungs and liver. It is important for mothers not to rush the delivery of their babies as early elective deliveries before 39 weeks place infants at greater risk of breathing complications and even death. Infants born prematurely are at risk of delayed development and chronic medical problems as they grow into childhood.
The Challenge
Geographic and economic disparities mean that many mothers-to-be find themselves without nearby and accessible health care before and during pregnancy, the first step toward a healthy child. Higher rates of obesity and tobacco use also raise the chance that a child will be born prematurely. The combination of these widespread factors make prematurity a challenging public health problem, but one that must be addressed.
What We're Doing
We're fighting this complex problem in many ways:
We've formed the new Mississippi Perinatal Quality Collaborative with other healthcare partners. The Collaborative will undertake evidence-based projects to improve the care of mothers and infants in neonatal delivery systems across the state.
We're educating mothers and doctors on the importance of carrying a child to full term (at least 39 weeks). We'll be partnering with the March of Dimes to recognize Mississippi hospitals that eliminate early elective deliveries.
We're bringing better nutrition to women before and during pregnancy through programs like the Women, Infants and Children's Supplemental Nutrition program (WIC).
Our Perinatal High-Risk Management program identifies women at greater risk of premature delivery, and offers them care and education during and between pregnancies.
We're working to reduce smoking and second-hand smoke exposure among all Mississippians, starting in youth. Even unborn babies can be affected by smoke that the mother breathes in at home and at work, whether she is a smoker or not.
Progress
Progress in some key areas related to premature birth means that we can expect Mississippi's rate to fall over time.
The state's teen birth rate declined significantly between 2008 and 2012.
Premature births, one of many factors in infant mortality, has increased in recent years, but declined in the five years ending in 2013 — an indicator that efforts can pay off.
Elective deliveries – those before 39 weeks of pregnancy that are not medically necessary – have begun to decline in the last few years.
Tobacco use among pregnant women has started to show improvement.
Giving Babies a Healthy Start
Mothers-to-be can give their babies the best start in life by:
Staying in good overall health, including keeping a healthy weight and getting regular physical exercise.
Quitting smoking, and making sure that others in your household do not smoke.
Waiting until full term (at least 39 weeks) to deliver your baby.
Even women who are not currently planning to become pregnant should stay healthy since half of all pregnancies are unplanned.
Find Out More