Antibiotics aren't always the answer. Unnecessary prescriptions for antibiotics create new, drug-resistant strains of common diseases.
According to the CDC, at least 30% of antibiotics prescribed in U.S. outpatient settings are unnecessary, meaning that no antibiotic was needed at all. Any time antibiotics are used, they can cause side effects and contribute to the development of antibiotic resistance.
Prescribing antibiotics carefully and using them wisely is the key to preventing the spread of antibiotic-resistant illnesses, and ensures that these life-saving drugs will be available for future generations.
What You Can Do
Ask your healthcare professional about the most appropriate treatment for you or your loved ones' illness. If antibiotics are not needed, ask about the best way to feel better while your body fights off the virus.
Take antibiotics exactly as prescribed. Talk with your doctor or pharmacist if you have any questions about your antibiotics.
When are antibiotics needed?
Colds, flu, sore throats and coughs are usually caused by viruses, not bacteria. Antibiotics should only be used when prescribed by a doctor to treat bacterial infections. Antibiotics won't help you recover from a viral infection.
Ear infections: There are several types; many need antibiotics, but some do not.
Sinus infections: Most sinus infections are caused by a virus, but antibiotics are needed for some long-lasting or severe cases of bacterial sinusitis.
Sore throat: Viruses cause most cases of sore throat. One major kind of bacterial infection (streptococcus infection) does require antibiotics.
Colds: Colds are caused by viruses and may last for two weeks or longer. Antibiotics have no effect on colds, but your doctor may have suggestions for obtaining comfort while the illness runs its course.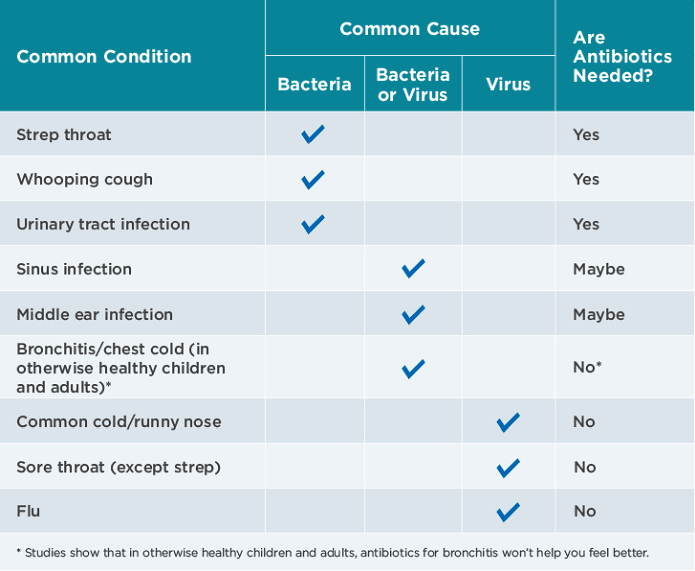 Antibiotic Stewardship
Antibiotic stewardship is the effort to measure and improve how antibiotics are prescribed by clinicians and used by patients. Improving antibiotic prescribing and use is critical to effectively treat infections, protect patients from harms caused by unnecessary antibiotic use, and combat antibiotic resistance.
Antibiotic Awareness Week
U.S. Antibiotic Awareness Week (USAAW) is a collaboration of the CDC, state-based programs, nonprofit partners, and for-profit partners. You can join official USAAW events or host your own. There are many ways to get involved!
More information
---