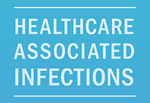 Healthcare-associated infections (HAI) are infections acquired by patients during the course of receiving treatment for other conditions within a healthcare setting. These infections can complicate any treatment being received and are one of the top 10 causes of death in the United States.
A study published by the CDC estimated that 4% of all patients hospitalized in 2011 had an HAI, with pneumonia and surgical site infections being the most common. During the study, 12% of patients with a HAI expired. The same study found that on average, a patient developed a HAI within six days of admission and that 43% of HAIs occurred 48 hours after a stay in a critical care unit. 1
U.S. healthcare facilities are required to report certain HAIs to the Centers for Medicare and Medicaid Services (CMS) via the National Healthcare Safety Network (NHSN). In 2014, MSDH started requiring all healthcare facilities that must report to CMS to allow MSDH access to their data. These facilities include acute care facilities (ACF), long-term acute care (LTAC) facilities, outpatient hemodialysis centers, ambulatory surgery centers (ASC), and inpatient rehabilitation facilities (IRF).
Reference: 1. Magill, SS, Edwards, JR, Bamberg, W, et al. Multistate Point-Prevalence Survey of Health Care-Associated Infections. N Engl J Med. March 2014; 370:1198-1208. doi:10.1056/NEJMoa1306801.
HHS Targets
In an effort to lower HAIs and promote better health, the U.S. Department of Health and Human Services (HHS) has set national goals for all HAIs in acute care facilities. The current goals were proposed in late 2013 and are targets for 2020. Along with targets for HAIs, an objective has been set to raise healthcare personnel influenza vaccination rates as part of HHS's Healthy People 2020. The following are these targets.
CLABSI: 50% below the 2006-2008 baseline
CAUTI: 25% below the 2009 baseline
SSI:Colo: 30% below the 2006-2008 baseline
SSI:Hyst: 30% below the 2006-2008 baseline
MRSA bacteremia: 50% below the 2010-2011 baseline
CDI: 30% below the 2010-2011 baseline
Flu Vaccination: 90% vaccination
HAIs Monitored by MSDH
The following types of infections are followed by MSDH via NHSN, along with healthcare personnel influenza vaccination data.
central line-associated bloodstream infections (CLABSI)
catheter-associated urinary tract infections (CAUTI)
surgical site infections from colon surgeries (SSI:Colo)
surgical site infections from abdominal hysterectomies (SSI:Hyst)
Methicillin-resistant Staphylococcus aureus (MRSA) bacteremia
Clostridium difficile infections (CDI)
Along with these infections, the List of Reportable Diseases and Conditions includes the following drug resistant organisms that are commonly associated with the healthcare setting.
Vancomycin-resistant Enterococcus (VRE)
Carbapenem-resistant Enterobacteriaceae (CRE)
Vancomycin-resistant Staphylococcus aureus (VRSA)
Vancomycin-intermediate Staphylococcus aureus (VISA)