Healthcare Guidance
Guidance, reporting, patient handouts and more from MSDH
Therapeutics
Healthcare Provider Guidance and Resources
Patient Handouts
Vaccination Providers
COVID-19 Therapeutics
Therapeutics currently authorized or approved for the treatment of mild to moderate COVID-19 include the oral antivirals Paxlovid and Lagevrio and the intravenous antiviral Veklury.
Overview of Therapeutics for the Prevention or Treatment of COVID-19 (HHS.gov)
Oral Antivirals
Ordering: The federal government has designed the Healthcare Provider Order Portal (HPOP) for management of COVID-19 therapeutics. Please place your order in HPOP. You will be able to see courses ordered for your site on your HPOP account. If you do not have an HPOP account, please contact C19Therapeutics@msdh.ms.gov
Required reporting:Courses administered (dispensed) and courses available of Paxlovid and Lagevrio should be entered into HPOP by the provider site at least twice per month, on the 15th and last day of the month. Timely and accurate inventory reporting is necessary for federal partners to determine subsequent state allocations.
Resources:
Therapeutics Locator
Use this interactive map to locate a facility that has one of the authorized therapeutics for COVID-19.
Monoclonal Antibody Therapy
There are no monoclonal antibodies currently authorized in the U.S. for the outpatient treatment of COVID-19.
The following monoclonal antibody products are no longer authorized for use in the U.S.:
Bamlanivimab
Bamlanivimab/Etesevimab
Bebtelovimab
REGEN-COV
Sotrovimab
Evusheld
As of January 26, 2023, Evusheld is no longer authorized for Emergency use for pre-exposure prophylaxis (prevention) of COVID-19.
Remdesivir
Remdesivir has been studied in non-hospitalized patients with mild to moderate COVID-19 who are at high risk of progressing to severe disease and is approved by the FDA for use in both hospitalized and non-hospitalized patients.
Ordering: Remdesivir is commercially available and should be ordered through standard pharmaceutical procurement processes.
Health Facilities
Specimen Collection, Delivery and Reporting
Specimen Reporting
SARS-CoV-2 Virus Strain Surveillance
Map and Directions for Laboratory Dropoff
The Dr. F.E."ED" Thompson, Jr. Public Health Laboratory Facility is on the State Department of Health's central office campus in Jackson, MS at 350 East Woodrow Wilson Drive, Jackson, 39216.
Local Delivery of Samples: Drop samples off at the rear of the Thompson lab building. Detailed instructions are in our sample shipping guidance.
Dropoff hours: Monday through Friday from 8:00–4:30.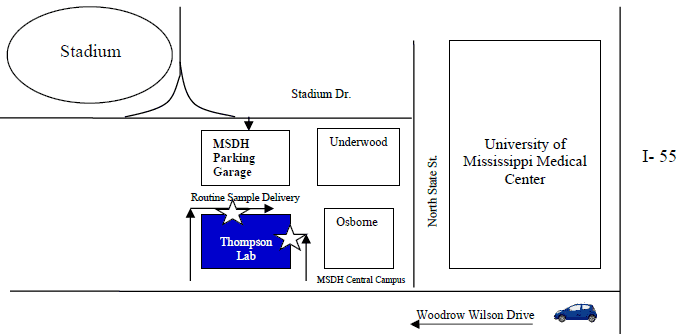 CDC Guidance
Healthcare and EMS
Contact Tracing
More from the CDC