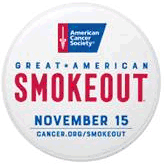 Quitting smoking for just one day causes your blood pressure and carbon monoxide levels to drop. It's the first step toward quitting for good, and feeling better for the rest of your life.
Why Quit?
In the first few seconds after you inhale cigarette smoke, dramatic changes take place in your body that weaken your fitness and overall health. Tobacco smoke quickly damages blood vessels throughout the body and makes blood more likely to clot. This damage builds up over time to cause heart attacks, strokes, and sudden death.
Quitting can reverse much of this damage. In just minutes, blood pressure returns to normal. In a few weeks, the lungs and blood vessels begin to recover. In time, quitting can heal much of the damage of smoking.
Quitting for just one day has immediate health benefits, and prepares you for the next step – quitting for good.
Plan Your Quit Day
Quitting smoking can be hard, so a good plan can help you get past symptoms of withdrawal. Five steps can help.
Set a quit date. You don't have to stop smoking in one day, but the Great American Smokeout can be the beginning of your journey.
Tell your family and friends about your quit plan. Share your quit date with the important people in your life and ask for support. A daily phone call, e-mail, or text message can help you stay on course and provide moral support. Try SmokefreeTEXT for 24/7 help on your mobile phone.
Be prepared for challenges. The urge to smoke is short – usually only 3 to 5 minutes. Surprised? Those moments can feel intense. Even one puff can feed a craving and make it stronger. Before your quit day, write down healthy ways to cope.

Drink water.
Take a walk or ride your bike.
Listen to a favorite song or play a game.
Call or text a friend.

Remove cigarettes and other tobacco from your home, car, and workplace. Throw away your cigarettes, matches, lighters, and ashtrays. Clean and freshen your car, home, and workplace. Old cigarette odors can cause cravings.
The Mississippi Tobacco Quitline provides FREE services to help you quit. They offer counseling, nicotine patches, gum, or other approved quit medication can help with cravings. Call 1-800-QUIT-NOW (1-800-784-8669) or 1-855-DEJELO-YA (1-855-335-3569 for Spanish speakers).
E-cigarettes (e-cigs, e-hookahs, vape pens, mods, tank systems, electronic nicotine delivery systems) have not been proven to be effective for quitting smoking.
The Benefits of Quitting