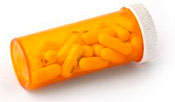 In 2012, 90 percent of overdose deaths in Mississippi were caused by prescription drugs, and most were accidental. Proper storage and disposal of medications can prevent injuries and deaths from drug abuse and drug overdoses.
Prescription abuse is: taking any medication prescribed for someone else; or taking a higher dosage or in a manner than has not been prescribed.
Prescription drug abuse is a national epidemic, killing over 300 Americans each week. Overdose deaths involving prescription painkillers have quadrupled since 1999 and now outnumber those from heroin and cocaine combined. In 2009, drug poisoning deaths surpassed traffic-related crashes as the leading cause of injury death in the United States.
Who Is at Risk
What You Can Do
Nationally, almost 70 percent of people who abused prescription drugs say they got them from a family member or friend. Proper prescription drug disposal ensures that drugs won't fall into the hands of those they can hurt the most.
Painkillers are the most commonly abused prescription drug. If you are taking pain medication, develop a pain management plan with your doctor to make sure you're receiving the right amount of pain medication.
Always store prescription drugs securely, and not easily accessed by others. Keep track of quantities, and keep the drugs in a locked medicine cabinet if possible.
Properly dispose of medications once treatment is completed. Check the label or patient information guide for disposal instructions. Your pharmacist can also tell you about safe drug drop-off locations to dispose of leftover medications.
What Mississippi Is Doing: The Prescription Monitoring Program
The Mississippi Prescription Monitoring Program is an electronic tracking program managed by the Mississippi Board of Pharmacy to help practitioners and medical dispensers identify possible inappropriate use of controlled substance drugs and other designated medications. The online service supplies a patient's controlled substance prescription history and information about the prescriber and dispenser. This program supports the legitimate use of controlled substances while helping to safeguard public health and safety.
Resources
Reports
State agencies and organizations
National organizations
Best practices
Additional links