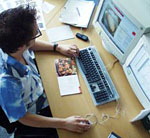 Individuals interested in pursuing a career in public health can gain practical experience in their chosen field as a Public Health Intern with our agency.
A variety of experiences are available, depending on the area of interest of the applicant. This program will provide opportunities for the student to develop various interests, knowledge, skills, and abilities needed to transition into a full-time career in public health.
Our Internship Program
Qualification
Applicants must be currently enrolled in an undergraduate or graduate degree program at an accredited institution. For example, for a student in a public health program, that program must be accredited by the Council on Education for Public Health (CEPH). Applicants must be U.S. citizens or hold visas permitting permanent residence in the U.S. to be eligible for the internship program.
Location
Internships may be at our central office campus in Jackson, or at any of our district or county offices, based on the location of a suitable internship project and location of the applicant.
Available Internships
Internship projects, when available, are listed below. You can explore our web site to understand more about the services MSDH offers to the public.