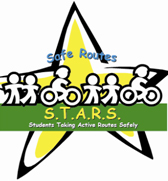 The Safe Routes STARS (Students Taking Active Routes Safely) Program provides pedestrian and bicycle safety instruction to 2nd and 5th grade students, parents, schools and community members across Mississippi and will promote safe walking and biking as a fun, healthy ways to get to and from school safely.
The program includes:
Classroom instruction
Follow-up hands-on skills training with on-foot street crossing lessons and on-bike safety skills lessons
School and community-based outreach events to encourage parent participation in safe, active transportation.
Currently, the program has expanded to serve schools across the state. The program is available to all school districts in the state of Mississippi. The Safe Routes STARS Program is taught primarily in public and private schools but is also available to community organizations throughout Mississippi. To arrange a Safe Routes STARS event, please use our event request form.
Services provided free of cost by the Mississippi State Department of Health
45 minute pedestrian and bicycle safety education presentations:
Pedestrian safety education instruction for 2nd graders
Bicycle safety education instruction for 5th graders
Follow-up presentations (optional):
On-foot for 2nd graders
On-bike for 5th graders
Workshops for parents, school officials and community members