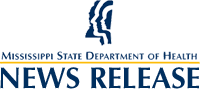 JACKSON - The Mississippi State Department of Health (MSDH) will begin offering religious exemptions Monday, July 17, 2023, in addition to the existing medical exemption process in compliance with the federal court order entered in April 2023.
Detailed information is now available on our website along with the proper forms to be completed and a statement from the Board of Health. "MSDH stands with the Board of Health in support of the current School Vaccination Law which has protected our children for over 40 years," said State Health Officer, Dr. Daniel Edney.
MSDH issues medical exemptions when a Mississippi licensed pediatrician, family physician or internist completes the exemption form (Form 139-M) and submits it to the State Epidemiologist for review.
For a religious exemption, a parent or guardian will schedule an appointment at a county health department (HD) and submit Form 139-R (available on the MSDH website and at HD locations). During the appointment, the parent or guardian will be required to watch a Vaccine Education Video and will have an opportunity to ask questions. HD staff will complete the Form 139-R and submit the completed form to the State Epidemiologist for review.
The State Epidemiologist will approve and issue exemptions when parents or guardians (religious) or physicians (medical) complete the required process and request form. The Form 122 providing documentation of the exemption will be provided to the parent or guardian, the physician (if applicable), and the school if that information is provided on the form.
In each exemption process, the parent or guardian will be informed of any vaccine-preventable diseases for which the child has not been adequately immunized and current outbreaks that may prevent the child from attending daycare or school.
"Because of our long-existing and strong immunizations program, Mississippi has not recorded a measles case since 1992 even as other states have seen cases and outbreaks in recent years," states Interim State Epidemiologist Dr. Kathryn Taylor. "MSDH urges parents to carefully consider the importance of vaccinating our children and continues to encourage all individuals to remain up to date on all vaccinations unless medically contraindicated."
Follow MSDH by e-mail and social media at HealthyMS.com/connect.
---
Press Contact: MSDH Office of Communications, (601) 576-7667
Note to media: After hours or during emergencies, call (601) 576-7400