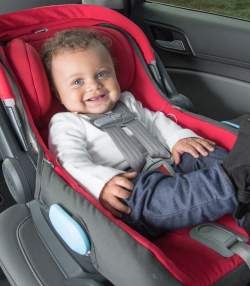 Child car seats protect children from birth to their early teens against death and injury.
Does your child need a car seat or booster seat?
We provide free infant or convertible child car seats to all eligible Mississippi children. See whether you qualify by using our assessment form below.
What you'll need to check for eligibility:
Your Mississippi driver's license or state I.D.
Your child's birth certificate
Court paperwork if you are a guardian or foster parent
Your child's most recent weight and height
Safe Seating
Kids in the back: Keep children under age 13 in a back seat.
Sit tight: Never let children ride on laps, in cargo areas or pickup truck beds.
Put your weight into it: Get a tight fit between the child restraint system and the vehicle seat. Put your weight into the child restraint system to compress the vehicle seat while tightening the seat belt as much as possible.
Special needs: Some children require special child restraints. Premature infants, children with respiratory difficulties, orthopedic challenges, and neurological and behavioral problems may require special child restraints.
Stay informed: Information on using vehicle seat belts with child restraints may be obtained from the vehicle seat belts and the owner's manual. For proper installation, read both the vehicle owner's manual and the child restraint instruction manual.
How Old?
The age of your child doesn't matter when selecting the safest car seat. The American Academy of Pediatricians recommends that you use seats in this order as long as they fit:
A rear-facing seat until your child outgrows its recommended height or weight (at least until age 2).
A front-facing seat until your child outgrows its recommended height or weight.
A booster seat for children until seat belts fit properly (at least 4 feet 9 inches).
Which Seat?
Rear-facing only seats and rear-facing convertible seats
All infants and toddlers should ride in a rear-facing car seat until they reach the highest weight or height allowed by their car seat's manufacturer. For most seats, this will be at least until age 2. Rear-facing seats are the safest type for a child.
Convertible seats and forward-facing seats with harnesses
Any child who has outgrown the rear-facing weight or height limit for his convertible car seat should use a forward-facing seat with a harness for as long as possible, up to the highest weight or height allowed by the car seat manufacturer. These seats keep children safer than booster seats.
All children whose weight or height is above the forward-facing limit for their car seat should use a belt-positioning booster seat until the vehicle seat belt fits properly. Children will typically need to be at least 4 feet 9 inches in height to ride without a booster seat.
When children are old enough and large enough for the vehicle seat belt to fit them correctly, they should always use lap and shoulder Seat Belts for optimal protection.
All children younger than 13 should be restrained in the rear seats of vehicles.
Recommendations from the American Academy of Pediatrics
Stay Secure
Place children in age- and size-appropriate restraint systems. This reduces serious and fatal injuries by more than half. An estimated ninety percent of Mississippi's children use improper restraints for their size and age.
Install car seats using a locked vehicle safety belt or a Lower Anchors and Tethers for Children (LATCH) system.
Check your vehicle's owner's manual to determine whether a locking clip is needed to secure the child safety seat.
Always use the correct child restraint system. Never use pillows, books or towels to boost a child. Doing so can compromise your child's safety.
Find out more
Resources
More Information
Mississippi State Department of Health: 601-206-1559