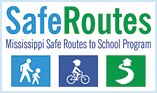 The Safe Routes to School program helps communities make walking and bicycling to and from school a safe, healthy alternative to taking a car or bus. At the same time, it seeks to reduce the number of overweight children in Mississippi through programs and activities that will increase exercise and physical activity among school-aged children from kindergarten through 8th grade.
MSDH offers these program and services to communities and schools through funds received from the Mississippi Department of Transportation, which oversees the Mississippi Safe Routes to School program.
About the Program
In Mississippi, almost 4 out of 10 children are overweight or at risk of becoming obese.
Safe Routes to School program encourages physical activity by choosing safe routes to walk to school rather than riding the school bus, thus reduce traffic congestion and improve air quality in the vicinity of schools.
Fewer than 15 percent of all school trips are made by walking or bicycling. One-quarter are made on a school bus, and over half of all children arrive at school in private automobiles.

(2001 National Household Travel Survey conducted by Federal Highway Administration)

Bicycles are associated with more childhood injuries than any consumer product except the automobile. The Safe Routes program and the Walk to School project are educating walkers, bikers and drivers to make streets safe for kids.
Program Activities

STARS Program
The Safe Routes STARS (Students Taking Active Routes Safely) Program provides pedestrian and bicycle safety instruction to 2nd and 5th grade students, parents, schools and community members across Mississippi and will promote safe walking and biking as a fun, healthy ways to get to and from school safely. More about STARS »

Bicycle Rodeo
A bicycle rodeo is a lesson in bicycle safety, which usually features bike inspections, safety lectures, and a miniature course that children can use to practice cycling safely. Optional activities could include helmet fitting, prizes and drawings, and in some cases commercial bike shop booths to give expert advice on using bicycle equipment properly.

Walk-a-thons
A walk-a-thon is an activity used to create a fun atmosphere while promoting a healthy and active lifestyle in children.

Walk-to-School Day
Walk-to-School Day is a one day event where children, parents, teachers, and community leaders walk to school together to promote being active and making streets more friendly for walking and bicycling.

Walking School Buses
A walking school bus is a small group of students, accompanied by one or more adults on their walk to and from school.
Schedule a Safe Routes Event
MSDH provides Bicycle Safety and Pedestrian Safety educational events for your school or community organization. To arrange one, use our form below:
Resources
Planning and Information
Links to More Resources
Contact
Ashley Bryant
Office of Preventive Health
Division of Injury/Violence Prevention
601-206-1559 Office
601-899-0154 Fax