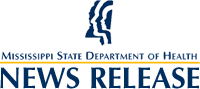 with the State Emergency Operations Center's
Joint Information Center
JACKSON, Miss. — Beginning today, the Mississippi State Department of Health (MSDH) is offering FREE Tdap (tetanus, diphtheria, and pertussis) vaccinations in Monroe and Sharkey counties for responders and residents who were affected by the weekend storms.
The sites will be open from 8 a.m. to 5 p.m. and remain open through Monday, April 3rd.
Monroe County Health Department
1300 Hwy 125 S.
Amory, Mississippi
Sharkey-Issaquena County Health Department
297 Race St.
Rolling Fork, Mississippi
UPDATE
Free Tdap vaccinations are also being offered through Friday, March 31 at the following county health department locations:
Carroll County: 7225 Hwy 17, Carrolton (through Friday)
Humphreys County: 16463 Hwy 49 N, Belzoni (through Friday)
Additional locations in Monroe County now include:
Thursday, March 30, 9:00-4:00: Amory Armory, 101 9th St S, Amory
Friday, March 31, 9:00-3:00: Wren Fire Dept
Monday, April 3, 9:00-4:00: Amory Armory, 101 9th St S, Amory
The MSDH reminds all residents affected by the tornadoes over the weekend that a tetanus vaccination is recommended if it's been 10 years or more since your last tetanus vaccination.
Vaccination is available for those 10 years and older; parents must sign consent for children under 18.
In the event of a puncture wound or wound contaminated by floodwater, individuals should consult a healthcare provider.
Follow MSDH by e-mail and social media at HealthyMS.com/connect.
---
Press Contact: MSDH Office of Communications, (601) 576-7667
Note to media: After hours or during emergencies, call (601) 576-7400