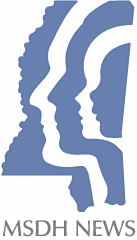 The Mississippi State Department of Health (MSDH) recognizes February as National Children's Dental Health Month, a time set aside every year to focus on the importance of developing and maintaining good dental practices as an essential part of a child's overall health.
According to State Dental Director Dr. Dionne Richardson, tooth decay and other dental health issues can lead to more than just mouth pain and embarrassment: Cardiovascular disease, digestive problems and sometimes death have all been linked to poor oral health.
Here in Mississippi, a survey of oral health in third grade children during the 2009-2010 school year revealed a population in need: 63 percent of the children had experienced one or more cavities during their lifetime; 31 percent currently had untreated tooth decay and five percent of the children surveyed were in need of urgent dental care.
The MSDH Division of Dental Health is actively addressing these needs through a variety of strategic approaches including increasing the number of the state's fluoridated water systems. Fluoride, a naturally occurring element present in many water sources, deters bacterial growth and makes teeth more resistant to decay. Currently, a little over 58 percent of Mississippi's total population receives the benefits of fluoridated water.
The "Mississippi Seals" program is an outreach program aimed at improving children's dental health. MSDH personnel and private dental professionals coordinate to provide education, dental exams, fluoride varnish applications and dental sealants on-site and at no cost to students attending eligible schools. Thirty schools in seventeen counties were serviced by the Mississippi Seals program in the 2011-2012 school year.
"We have our work cut out for us here in Mississippi," said Richardson, "but protecting the health of Mississippi's children is well worth the investment. The future of our state demands that we do so."
Follow MSDH by e-mail and social media at HealthyMS.com/connect.
---
Press Contact: MSDH Office of Communications, (601) 576-7667
Note to media: After hours or during emergencies, call 1-866-HLTHY4U (1-866-458-4948)