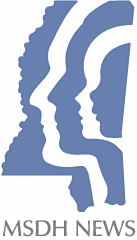 JACKSON, Miss. – The Mississippi State Department of Health (MSDH) reports the first confirmed pediatric influenza death in Mississippi since the 2009-2010 H1N1 Pandemic flu season. The death occurred in a North Mississippi child with chronic underlying health conditions. Pediatric deaths are defined as deaths of individuals 18 years of age and under.
Including today's death, a total of 11 Mississippi pediatric deaths have been recorded since pediatric flu deaths became reportable in Mississippi in 2007.
"We are still in the middle of our flu season in Mississippi, and if you have not gotten your flu shot, now is definitely the time to do so," said MSDH State Epidemiologist Dr. Thomas Dobbs. "Vaccinating yourself and your child against flu is critically important, especially if there are underlying health conditions. The flu shot is by far the best protection against the flu and its complications."
The seasonal flu vaccine is recommended for anyone age six months and older. Those particularly at risk for influenza complications include young children, adults 50 and older, pregnant women, and those with chronic illnesses.
Seasonal flu vaccinations are available at all county health departments. Vaccinations for adults are $25. Those 18 and under can receive seasonal flu vaccinations for $10 through the Vaccines for Children program. High-dosage vaccinations for those 65 and older are available for $50. The pneumonia vaccine is also available for $72. Medicare and Medicaid recipients are asked to bring their cards with them to the clinic.
Symptoms of seasonal flu include fever, cough, and often extreme fatigue. Sore throat, headache, muscle aches, and a runny or stuffy nose are also often present. More severe symptoms and death can also occur.
While vaccination is the best protection, basic infection control measures can also reduce the spread of flu. These measures include covering your mouth when coughing and sneezing, staying at home when you or your children are sick, and washing your hands frequently.
Follow MSDH by e-mail and social media at HealthyMS.com/connect.
---
Press Contact: MSDH Office of Communications, (601) 576-7667
Note to media: After hours or during emergencies, call 1-866-HLTHY4U (1-866-458-4948)