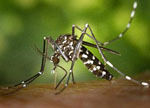 Chikungunya virus is a mosquito-borne disease especially prevalent in the Caribbean, where it can infect U.S. travelers. Chikungunya virus causes fever, muscle and joint pain, and swelling of the joints. Standard protective measures against mosquitoes can help keep you from becoming infected.
Is Chikungunya Infection Dangerous?
Unlike West Nile virus, chikungunya virus infection is rarely fatal. It can cause illness for 7 to 10 days, however, and those infected with chikungunya are more likely to develop symptoms. Infection can cause fever, flu-like symptoms and painful swelling of the joints.
Are Mississippians at Risk?
Chikungunya can spread from person to person through the bite of a mosquito once travelers return home.
If you are traveling internationally, you can check CDC Travel Health Notices for current health issues such as Chikungunya that may be a risk at your destination.
How Can I Protect Myself?
Protective measures from chikungunya are the same as those against West Nile virus or other mosquito-borne diseases:
Use a mosquito repellent when you are outdoors. Effective mosquito repellents have DEET, picaridin, IR3535 or oil of lemon eucalyptus as ingredients. Clothing (not skin) treated with permethrin will also repel and kill mosquitoes.
Remove sources of standing water around your home and yard, and make sure window screens are secure.
Wear loose, light-colored, long clothing to cover the arms and legs.
Avoid areas where mosquitoes are prevalent, regardless of the time of day. Mosquitoes that carry chikungunya virus are mainly active in the daytime, but mosquitoes that are active toward dawn and dusk can carry other diseases, such as West Nile virus.
How Can I Protect Others?
Remove standing water around your home. Standing water – even in very small amounts – can be used by mosquitoes to breed. Standing water can collect in tires, flower pots, cans, wading pools, drain pipes, and any other open container.
If you are sick with the symptoms of chikungunya, or you have been diagnosed with chikungunya infection, you can spread the disease to others through mosquito bites. Stay indoors, away from mosquitoes, and use a repellent to keep mosquitoes from biting you.
More Information