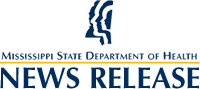 JACKSON, Miss. - Today the Mississippi State Department of Health (MSDH) announces that State Epidemiologist Dr. Paul Byers will retire at the end of June after more than 30 years with MSDH.
"Dr. Byers will be hugely missed – not only for his institutional knowledge and expertise, but also for his constant professionalism and patience," said MSDH State Health Officer Dr. Dan Edney. "He has an unparalleled ability to explain complicated issues with clarity and simplicity. That has been a huge asset in working with the public and our public health partners."
Byers has served in numerous leadership positions during his tenure at MSDH, most recently as State Epidemiologist since 2016. He has also served as Deputy State Health Officer and the medical director for several county health department clinics, the Office of Epidemiology, and the Office of Communicable Diseases.
Dr. Kathryn Taylor has been named the Interim State Epidemiologist, effective July 1, 2023.
Currently serving as Deputy State Epidemiologist since 2019, Dr. Taylor has worked at MSDH for several years, previously District V Health Officer and Medical Consultant for the Office of Communicable Diseases. Dr. Taylor has been vital in providing direction for surveillance and surveillance systems to the agency, has led and been involved in numerous outbreak and reportable diseases investigations and in the responses to other diseases of public health significance.
"Dr. Taylor has worked in tandem with me for the past several years investigating outbreaks and responding to a variety of public health emergencies, most notably COVID," said Byers. "Her knowledge and passion for the field of epidemiology is a benefit to the State of Mississippi."
A Jackson native, Taylor is a graduate of Mississippi College and the University of Mississippi Medical Center, where she completed her residency in family medicine.
She is a member of the Council of State and Territorial Epidemiologists, the American Academy of Family Physicians, the Mississippi Academy of Family Physicians, and the Mississippi State Medical Association.
Follow MSDH by e-mail and social media at HealthyMS.com/connect.
---
Press Contact: MSDH Office of Communications, (601) 576-7667
Note to media: After hours or during emergencies, call (601) 576-7400