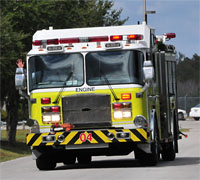 An introduction to public health's role in emergency preparedness, emphasizing volunteer utilization and the roles and benefits of volunteering.
This section includes free on-line training courses from FEMA in emergency management topics, open to volunteers, professionals, or any other interested party.
General Topics
Emergency Planning and Response
Strategic National Stockpile
Individual and Family Preparedness
Universal Precautions
Special Topics
Disaster Mental Health
Disaster Animal Health Response
Special Needs Populations
On-Line Training
Training Videos
The Basics
Physical Care
Medical Equipment
Psychological
Miscellaneous
Additional Resources
FEMA
CDC
MSDH
Medical Reserve Corps
Get health alerts and our free newsletter by e-mail:
This page has been automatically translated from English. MSDH has not reviewed this translation and is not responsible for any inaccuracies.
Last reviewed on Dec 16, 2016