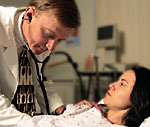 The Primary Care Office (PCO) is located in the Office of Rural Health and Primary Care at the Mississippi State Department of Health (MSDH) and has been in existence for over twenty years. The PCO is vital to ensuring that efforts are undertaken to address the availability of primary care services for underserved residents in the state of Mississippi. The Office is 100% federally funded by the Health Resource Service Administration (HRSA).
About the Program
Activities and Responsibilities
The Primary Care Office (PCO) goes a step beyond traditional health department activities to assist the underserved persons in our state. The PCO works to promote and support the provision of primary care services by facilitating and coordinating activities in the state related to the delivery of primary care services and the recruitment and retention of critical health care providers. The Office is responsible for conducting an annual Primary Care Physician Survey, health care professional recruitment activities, coordination of the National Health Service Corps Program, management of health professional shortage area (HPSA) designations for dental, mental health and primary care, and is the State Contact and clearinghouse for the Conrad State 30 J-1 Visa Waiver Program and the Appalachian Regional Commission "ARC" J-1 VISA Waiver Program.
J-1 Visas
The Office has been designated to serve as a State Contact and clearinghouse for the J-1 Visa Waiver Programs. Mississippi J-1 Visa Waiver Policies and Procedures for the Appalachian Regional Commission (ARC) and State 30 Program are available.
Available on-line are:
The PCO will administer the programs in a fair and consistent manner, as well as provide technical assistance to all interested in developing either the site predetermination or actual application for placement of a foreign-trained J-1 Visa Waiver provider.
National Interest Waiver
Scholarships
Related Links
Links to other health-related sites