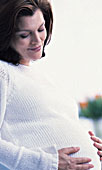 MSDH provides maternity services statewide to women through county health departments, targeting pregnant women with incomes at or below 185 percent of the Federal Poverty Level.
The goal of this program is to reduce low birth weight, infant and maternity mortality and morbidity.
Beginning December 1, 2015, MSDH will no longer enroll new patients for maternity care. For more information, and referral to other service providers, contact your county health department »
Why Prenatal Care Is Important
Proper care during your pregnancy allows early diagnosis of disease and identification of some congenital anomalies (birth defects). In addition, prenatal care reduces the risk of:
losing your baby during your pregnancy (miscarriage);
you or your baby becoming ill;
your baby being born too soon or too small (premature or low birthweight);
delivering a baby who has birth defects or is stillborn.
Services
Services offered through MSDH include but are not limited to:
Routine pregnancy medical check-ups performed by physician or nurse practitioner (to include monitoring the mother's well being, the baby's heartbeat, and determining the baby's position during the last trimester)
Lab work (i.e., pregnancy test, sexually transmitted disease testing, HIV, chlamydia, anemia, neural tube defects)
Vital signs (i.e., blood pressure, height, weight)
Checking for changes in the size of the uterus (checking the baby's growth)
Urine checks for signs of infection and/or protein
Counseling and education (on nutrition, preparation for labor and delivery and care of the newborn)
WIC enrollment
Assistance with applying for Medicaid (at limited sites)
Post-partum follow up care after delivery
Health care for the baby
Family planning services (i.e., contraceptives, Pap test, clinical exam, etc.)
Contact a county health department near you to receive any of these services.
MSDH Programs for Prenatal Care
Perinatal High Risk Management Infant Service System (PHRM)
As a Medicaid provider, MSDH provides a Perinatal High Risk case management program (PHRM). This program includes a multi-disciplinary range of preventive health services for pregnant women including physical exams, nutrition, social services, health screening, education, counseling, interventions, and referral service as appropriate. The primary objective of the MSDH perinatal health care program is to decrease infant mortality and low birth weight infants by providing health care to pregnant women. By increasing the number of women having access to prenatal care, it is intended to assist with the reduction of infant mortality.
Pregnancy Risk Assessment Monitoring Survey (PRAMS)
The Pregnancy Risk Assessment Monitoring Survey is a joint project between the Mississippi State Department of Health and the Centers for Disease Control and Prevention (CDC). The purpose is to find out why some babies are born healthy and others are not. To do this the survey asks new mothers questions about their pregnancies. The answers are confidential and will assist us in learning more about ways to improve the chances for mothers and babies in Mississippi. The data will also assist for future planning.
Resources for Healthy Maternity
Jackson-Area Maternity Classes
Major hospitals and delivery centers offer childbirth and breastfeeding classes at low cost to mothers-to-be and their husbands.
Contact
For More Information
To find out about maternity services near you, contact your local health office.
Or contact the Office of Women's Health at 1-800-721-7222 (toll-free) or (601) 576-7856.

We want to hear from you about about maternal and child health needs and programs in Mississippi. Take a moment to share your ideas and concerns with us. Send us a message »