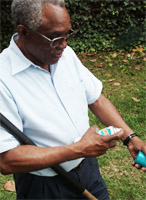 Protecting Yourself
Avoid places and times when mosquitoes bite. Evenings and mornings have the most mosquito activity.
Wear shoes, socks, long pants, and a long-sleeved shirt when outdoors for long periods of time, or when mosquitoes are most active. Clothing should be light colored and made of tightly woven materials to keep mosquitoes away from the skin. Pants legs should be tucked into shoes or socks, and collars should be buttoned.
Use mosquito netting when sleeping outdoors or in an unscreened structure.
Use an insect repellent such as DEET (N,N-diethyl-m-toluamide), or other EPA-registered ingredients. More about recommended mosquito repellents »
Protecting Your Home
You can protect your family from biting mosquitoes by reducing the amount of standing water available for mosquito breeding in or near your property:
Repair failed septic systems.
Keep grass cut short and shrubbery trimmed.
Dispose of old tires, cans, plastic containers, ceramic pots, or other unused containers that can hold water.
Change the water at least once per week in bird baths, wading pools and other water containers on your property.
Cover trash containers to keep out rainwater.
Clean clogged roof gutters, particularly if leaves tend to plug up the drains.
Repair leaky water pipes and outside faucets.
Aerate ornamental pools or stock them with predatory fish.
Clean and chlorinate swimming pools even if they are not being used.
Keep drains, ditches, and culverts free of grass clippings, weeds, and trash so water will drain properly.
Insect Repellents
Products containing one of the following two active ingredients typically provide longer-lasting protection than any others registered with the EPA:
DEET (N,N-diethyl-m-toluamide)
Picaridin (KBR 3023)
Products with these active ingredients may also be effective:
Oil of lemon eucalyptus (p-menthane 3,8-diol, or PMD)
Permethrin (for clothing)
More information on these appears below.
Be sure to use only Environmental Protection Agency (EPA) registered repellents for use on human skin. Always read the manufacturer's directions carefully before you put on a repellent.
DEET
DEET is an effective insect repellent used worldwide for over 40 years. DEET products come in lotions, creams, gels, sprays, and towelettes. Products containing DEET must be used properly. Be sure to:
Read and follow instructions on the label to avoid excessive use and over-application. In most circumstances products with 25 percent to 35 percent DEET provide adequate protection for adults.
Lower concentrations are used on children. Do not allow children to apply DEET repellent themselves, and do not use DEET on infants.
Apply DEET repellent to clothes whenever possible. Apply sparingly to exposed skin, and only then if the label permits.
Use just enough repellent to cover exposed skin and/or clothing.
Do not spray DEET directly on the face. Rather, spray repellent onto the hands and use them to apply it to the face, avoiding sensitive areas like the eyes, mouth, and nasal membranes.
Do not apply over cuts, wounds, irritated skin, or under clothing.
To find out if you have a reaction to DEET, apply the repellent to a small area of an arm or leg before general use.
To prevent damage, avoid spraying repellents on plastic (such as watch crystals and eyeglasses), synthetic fabrics, leather, or painted or varnished surfaces.
Do not spray DEET repellents in enclosed areas.
Upon returning indoors, wash any treated skin with soap and water.
Wash any DEET treated clothing before wearing them again.
DEET products usually repel mosquitoes for several hours. However, repellents are effective only at short distances from the treated surface. You may still see mosquitoes nearby. As long as you are not being bitten, there is no need to apply more repellent.
Oil of lemon eucalyptus
Oil of lemon eucalyptus, or PMD, a plant based repellent was tested against mosquitoes found in the US, and provided protection similar to repellents with low concentrations of DEET.
Oil of lemon eucalyptus has not been tested against mosquitoes that spread malaria and some other diseases which occur internationally. See the CDC Travelers' Health website for specific recommendations concerning protection from insects when traveling outside the United States.
Permethrin
Products which contain permethrin are recommended for use on clothing, shoes, bed nets, and camping gear, and are registered with EPA for this use. Permethrin is not for use on the skin. Permethrin is highly effective as an insecticide and as a repellent. Permethrin-treated clothing repels and kills ticks, mosquitoes, and other insects, and retains this effect after repeated laundering. The permethrin insecticide should be reapplied following the label instructions. Some commercial products are available pretreated with permethrin.